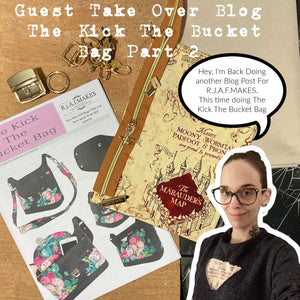 Part 2 Of Lily's Latest Club Bag Make (The Kick The Bucket Bag-Pattern due out for release late Demember )

Part 2 Of Lily's Latest Club Bag Make (The Kick The Bucket Bag-Pattern due out for general pattern release late December 2021 )
As many of you know we let a Guest take over on the blog every so often. So we have a New Brand ambassador Lily. I personally meet Lily over on Instagram with her Harry Potter Craziness and her love of sewing. So i will let Lily tell you more about herself and her new task for R.j.A.f.MAKES.
This is a 2 part blog and Lily's talking you through how she has jazzed up plain cork fabric to match the theme of the fabric she is using for the bag. The bag is the last club bag pattern we did and since been on Sewing Street T.V (pattern due to release at the end of December.  The pattern is called The Kick The Bucket Bag.)

I cant wait to see Lily's final make of this bag in the next blog post.
B
x
Hello everyone!! I'm back again with part 2 of my Kick The Bucket blog post, if you haven't read part 1 then you can  find it here!!
My name is Lily and I am a craft blogger/YouTuber, you can find me on Instagram and on YouTube, I like to do reviews and sometimes craft tutorials on my channel, I am a true multi crafter, I will honestly try my hand at anything and everything that takes my fancy. I have now been sewing for nearly 4 years, I am completely self taught and have loved every second of it!! I have a chronic illness that causes me a lot of daily pain and exhaustion, amongst other things, so I use craft as a way of coping with it, my Mum was a huge crafter too and she taught me from a young age that while I might not be able to do everything that other kids my age can do there is always SOMETHING I can do, not only that she taught me to channel my pain and frustrations into my creations. I'm a firm believer that craft is therapy, both mental and physical and the feeling of accomplishment is honestly one of the biggest highs!
When I left off I had just announced that I got a bit carried away with the fabric painting on the cork fabric… So the first thing I'm going to talk about is that… I initially planned to just have the phrase "I Solemnly Swear That I Am Up To No Good" on the pocket flap and then a name banner and some footprints dotted around the way they'd appear on the Marauders Map in the films. As I was painting the freehand footprints I just found myself reaching for the next bit of cork and then the next… And the next… Until every single cork pattern piece was covered in footprints, including the straps! At first I was concerned that I had gone over the top but when I laid it all out with the fabric it was just the perfect amount to make the fabric pop! I mixed a custom fabric paint glitter that complemented the paint colour and painted it all over the top of the footprints to give them that added element of magic.
As you can see I managed to pattern match all the fabric pieces pretty well and the painted elements on the cork really make the fabric pop and complements it perfectly… Question is… Did I get the underside of the pocket flap  pattern matched… Well I'm pleased to say that it worked pretty well!
When it comes down to matching  any areas during construction, like the points in the side seams where the cork joins to the fabric, I used Becky's stapler tip (in the seam allowance) to hold the pieces together in place while I sewed the front and back pieces together.
As always the hardware from Becky is top quality, the click lock in particular is something special, it's really heavy duty and has a serious weight to it which just screams quality, and the O Snap rings are great too they make it much easier to make changes to the straps and add/change shoulder pads etc and the hinge on them is top notch!
The cork was truly a dream to sew, you can't use pins because cork has a memory (like PU) so clips are a must have, you're definitely going to want to use a size 16 needle and use a longer stitch length when you topstitch. The pattern is SO well written with lots of photos and detailed instructions and it's packed with tips and tricks to make sewing this bag (and others) so much easier! For the lining I used a lightweight WPC (waterproof canvas) which meant I didn't have to use interfacing however it wasn't without it's challenges, like the cork I couldn't use pins but to be honest all it took to work out optimal settings for my machine was sewing a few test pieces. As I used cork and WPC that meant I wasn't able to press it whenever these two fabrics were present and I had to use a seam roller to get the seams crisp before I did any topstitching, if you use either of these fabrics (or any other fabric that can't be pressed) then a seam roller and a hard surface is your best friend! Both the cork and WPC are new fabrics for me and I  was expecting them to  be a bit more  tricky to work with than they actually were, I definitely won't hesitate to use either of them in future projects, they are both so versatile and I actually already have many ideas up my sleeve using both of these fabrics. I have a Janome DKS100 machine so it's a fairly decent but mid range machine and it handled the layers on this bag like a champ!
I think the designs I painted on the cork have seriously elevated it and made it a truly one of a kind bag and I hope you all agree! Hopefully this will have encouraged you to get a bit creative with your own makes and to really put your own mark on your future bags. If you've stuck with  me this far then WOOHOO, I really hope this had encouraged you to step out of your comfort zone and think outside the box when it comes to all your future makes!! If you have any questions then please don't hesitate to ask! I hope you've enjoyed this 2 part blog!
" Thank you Lily for an awesome blog post and your bag looks amazing, now i'm wanting to try fabric painting cork fabric"
"This pattern is due out fat the end of December as Sewing Street Tv Channel Still Have it exclusive to them, if your wanting it before pop over to get the kit
https://www.sewingstreet.com/en-gb/product/becky-alexander-frost-kick-the-bucket-bag-kit-(pattern-and-hardware)/ehb960/
Happy Sewing Everyone
---
1 comment